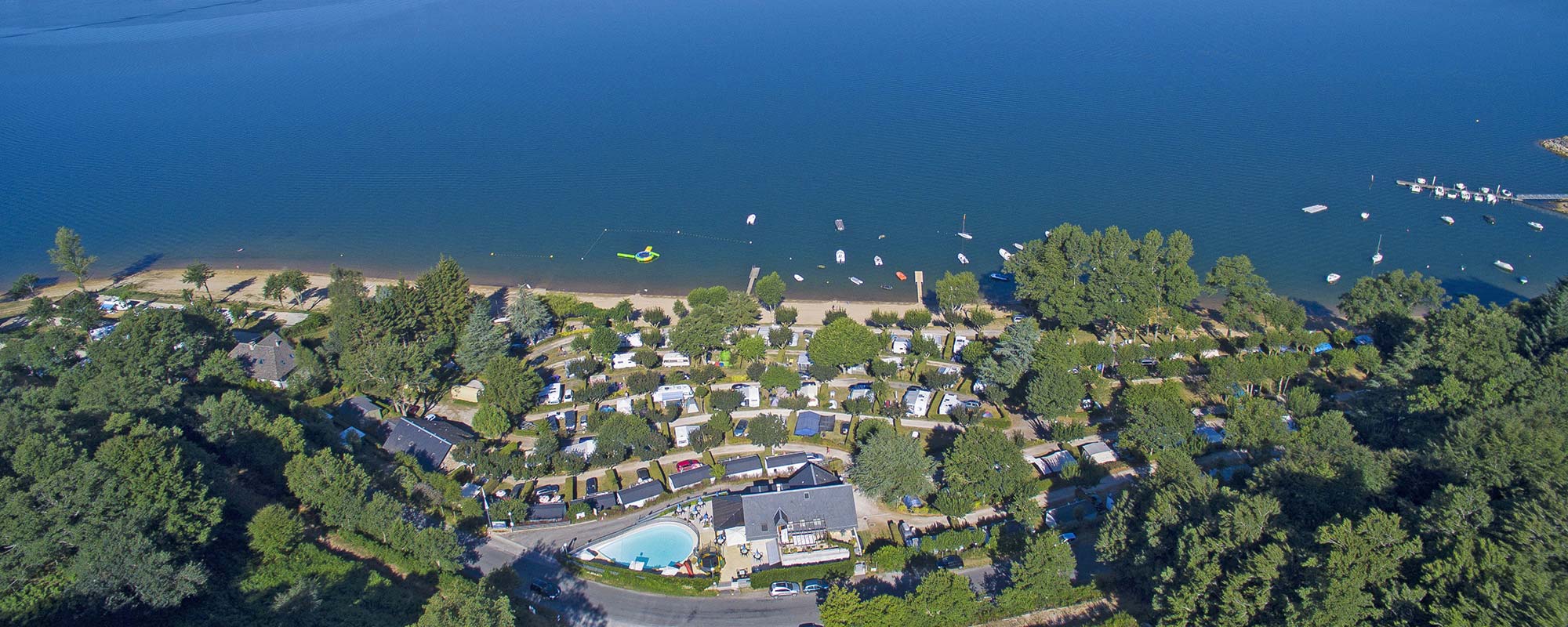 Is there TV in the mobile homes or chalets?
The location of the campsite does not allow you to receive a TV signal correctly even with a portable antenna.
Only Comfort chalets are equipped with TV's with satellite dishes.
The accommodation that can be equipped with TV is the Panoramique chalets, the Bastidon chalets, the Etoile and Family mobile homes.
Do any rentals have dishwashers?
Our Panoramic chalets are equipped with a dishwasher.
Are sheets provided in rentals?
Sheets, pillowcases, towels and toiletries are not provided. Pillows and blankets are offered for rental by the bed.
How do I pay for my rental balance?
Your rental balance is due 1 month before arrival. You can pay by cheque, holiday voucher or bank transfer. If you have made your reservation online with your credit card on our website, you will receive a reminder email allowing you to pay your balance by credit card.
Can we install an additional tent on the rental pitch?
It is possible to install an additional small tent next to some rentals for an additional fee. Please contact us for more information.
Is there any food available on the campsite?
We have a convenience store at the reception desk. The products for sale are basic essentials. We have bread and pastries available every morning (on request outside July and August).
All the shops in Salles-Curan, 3 km from the campsite, are at your disposal (all shops). You will find an Intermarché supermarket 15 minutes from the campsite.
What is the nearest town to the campsite?
The campsite is located halfway between Rodez (35 min north of Aveyron) and Millau (35 min south of Aveyron).
Lots of small shops and markets are available in the village of Salles-Curan 3 km away..
Can we rent fridges?
We rent "table-top" fridges (about 85 l) at a price of €7 to €10/day depending on period. It is best to reserve between 15 July and 15 August.
Barbecues, are they allowed?
We allow charcoal and gas barbecues. The use of electric barbecues and planchas is prohibited. It is possible to rent charcoal grills at Reception (3€/day or 12€/week, charcoal and more).
Is it possible to have access to TV on the campsite?
You can watch the TV in the bar lounge.
The location of the campsite does not allow you to receive television properly on the pitches and in the rentals, even with a portable antenna. Only satellite dishes can be used for good reception.
The accommodation that can be equipped with TV is the Panoramique chalets, the Bastidon chalets, the Etoile and Family mobile homes.
Are there WIFI on the campsite?
The campsite has complete WIFI coverage. The WIFI is not free: 30 min: €2, 60min: €3, 1day: €6, 7days: €18, 30 days: €35
Are there laundry facilities on the campsite?
We have 3 washing machines and a dryer.
The laundry is located near the bar in a separate room.
Rates are €6 for a washing machine and €3 per hour for the dryer.
Can you describe the pitches?
All our pitches have direct views of Lake Pareloup because our camp site is built on terraces overlooking the lake. Our pitches are between 80 and 100m on average and are separated by hedges for greater privacy and so they are less overlooked. Camping area are stabilised grass suitable for tents, caravans or campervans.
How can we choose the location when booking?
When booking online or by email, you can indicate your preferences in the comment box (shade, sun, distance from washing/toilet facilities, pool, lakeside, quiet, etc). We will do our best to meet your requirements, according to availability at the time of your request.
What type of electrical outlets are available?
All our locations are equipped with European sockets (blue). You can bring your own adapter, or we can lend you one at the reception desk for a deposit of €20.
Can we have water on the site?
Each alley has one or more standpipes (approximately every 5 pitches). We have no room for connection to water and sewage.
Are the pitches shaded?
Our land is semi-shady as a whole. Each location has a tree allowing for a shaded period during the day. Being located 800 m above sea level, we try to prune trees so as to have gaps for the sun while still having periods of shade.
What are the times and dates of the events?
We offer an entertainment programme from Monday to Friday in July and August.
At what age may children participate in the kids club?
Our campsite is a camping on a human scale allowing us to avoid age limits in terms of entertainment. We offer events and activities, and if you are interested you are welcome regardless of your age. For example, a mother can accompany her child during a planned activity for children, teenagers can also participate in this activity if they are interested.
Must we register in advance?
No, there is no registration. All you have to do is show up at the time and location of the event.
Is there a charge for activities and entertainment?
The majority of our activities and events are free and included in the holiday price. Some events or paid activities will be offered by partners. In this case, the rates will be specified.
Do I need to bring table tennis bats?
Yes, because we have tables tennis tables. Bats and balls are also on sale at the reception.
Can we swim in the lake?
Yes, we have direct access to Lake Pareloup allowing you to take part in all sorts of water activities: swimming, sailing, fishing, motor-boating etc. The water temperature is on average between 20° C and 24° C in summer. In front of the campsite, we have a natural beach made up mainly of sand. There may be grassy areas or some more or less stony places. We have an "unsupervised" swimming area set out in front of the campsite with inflatable play equipment in the water (trampoline + rollerball + slider + flipper). The public beach at Les Vernhes, 200 m from the campsite has 2 supervised swimming areas.
Can we bring our own boat or boating equipment?
Of course! It is the ideal place for your water activities such as fishing, sailing or power boating. We have a boat launching slipway allowing you to put your boat into the water directly from the campsite. There is also a municipal slipway 200 m away.
How do I moor my boat?
We offer 3 solutions:
You can install your own mooring buoy for free in front of the campsite.
Bring your buoy, rope, chain, carabiners and so on, and we will lend you a dead anchor against a deposit to save you transporting it. Dead anchors are concrete rings that you put in the water to make your own mooring. You must remove the dead anchor at the end of your stay, and we will return the deposit to you.
We have mooring buoys installed in front of the campsite, ready to receive your craft. The rental price is €8 per day.
You can put your boat on the municipal pontoon at Les Vernhes 200 m from the campsite along the beach. Contact Salles-Curan Mairie on +33 (0)565 463173. Prices: €9 per day, €50 per week.
Can we rent a boat, a pedal boat, or a jet ski?
You can rent a canoe at the campsite. There are several rental companies including one 200 m from the campsite. They offer the rental of pedal boats, boats with and without a licence, as well as jetskis (sea or river licence required).
Fishing on Lake Pareloup?
It is a paradise for fishermen, especially with a boat to venture into the remotest arms of the lake. Lake Pareloup is a lake in the second category and a fishing licence is required. You can fish for carp, pike, perch, tench, white fish, perch and roach.
Swimming and water games on the lake
Are there any conditions for access to the swimming pool and water games?
Access to the pool and inflatable water games on the lake are strictly reserved for campers staying at the campsite. The campsite's swimming pool and the swimming and play area on the lake are not supervised. Access is strictly reserved for children who can swim and under the responsibility of their parents. Access to the swimming pool and swimming area on the lake is subject to compliance with the site's internal regulations.
Are swimming shorts allowed in the pool?
For hygiene reasons, only traditional swimwear is allowed in the pool. Any other attire is prohibited.
Is the pool heated?
Yes, it is heated to 26° C on average.
Are there slides?
There is a children's slide in the pool 1.80 m tall.
What are the opening times?
The pool is open from mid-June to mid-September from 10.00 to 19.00 every day. The swimming and inflatables area on the lake are open from 10.00 to 20.00 in July and August.
What are the times for arrival and departure?
For rentals, arrival is from 16.00 and departure is before 10.00. An inventory will be made before your departure from a rental. There is no need to make an appointment, come and report to the reception as soon as you have finished your cleaning and the accommodation is ready to be vacated. For the camping site, arrival is from 13.00 and departure before 11.00.
Can arrivals be staggered or delayed?
In July and August, we welcome you from 9.00 to 12.00 and from 14.00 to 19.00 every day.
We can make special arrangements to welcome you outside these hours in July and August if you notify us of your arrival time (+33 (0)565 463332). We will then tell you how to proceed.
Outside of July and August, Reception is not open regular hours, but we are there. Arrivals may therefore be arranged at different times. Please contact us (+33 (0) 565 463332) to tell us your time of arrival.
What modes of payment are accepted?
We accept credit cards, cheques, cash and holiday vouchers for payments at Reception as well as for the various services offered on the campsite (bar, restaurant, grocery store). For payments for outdoor activities, we only accept cash, cheques and holiday vouchers. ATMs are available in Salles-Curan, 3 km from the campsite.
Are animals allowed?
Yes, under certain conditions. They must be on a leash and their vaccination certificates must be presented upon arrival at the campsite. A supplementary fee will be charged for each animal. Rottweilers, (American) Staffordshire Terriers, Rosas or dogs with similar physical characteristics are strictly prohibited.
Is the campsite VACAF accredited?
Yes, our organisation is certified by VACAF whose mission is to facilitate access to holidays and leisure activities. To benefit from the support of your CAF you need simply indicate your beneficiary number when booking. We register you with your CAF and deduct directly the amount of the payment from your invoice. If you want to know the exact cost of your stay or for more information, contact us on +33 (0) 565 463332.